You are here:  
Home
Resorts
Club Wyndham Shearwater

Contact & Locate
CLUB WYNDHAM SHEARWATER - Information
Contact Us - Find Our Location
Club Wyndham Shearwater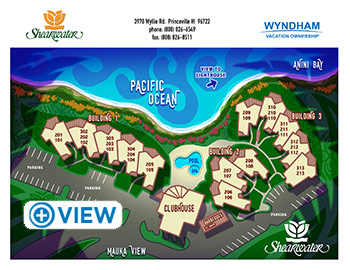 Phone: (808) 826-6549

Club Wyndham Ka Eo Kai Check In Address:
3970 Wyllie Road
Princeville, HI 96722

Resort Physical Address:
3730 Kamehameha Road
Princeville, HI 96722

Each Club Wyndham Shearwater vacation villa is positioned to protect your privacy, while taking full advantage of the spectacular view and the cooling tradewinds.

Directions for Club Wyndham Shearwater Check-In :
The following directions guide you from Lihue Airport to the Club Wyndham Ka Eo Kai Clubhouse for check-in of Wyndham Princeville Properties, which include Club Wyndham Shearwater.

If you'd like personal assistance, contact the Club Wyndham Ka Eo Kai front desk at (808) 826-6549.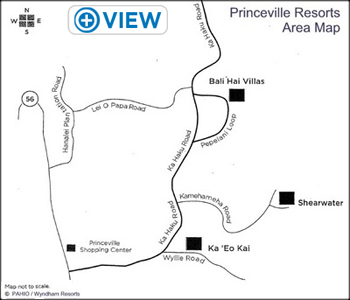 1. As you leave the airport, you'll see a sign for Lihue on the right side of the road. Stay in the left lane, as the sign directs, so you are heading toward Lihue.

2. Before the first stop light, you'll see another sign for Kapaa, Lihue and Nawiliwili. When you reach the intersection, take a right turn toward Kapaa.

3. Continue toward the town of Kapaa. After 2 miles, you'll see a sign indicating 6 miles to Kapaa and 26 miles to Princeville. Continue toward Princeville. You might want to have your camera ready. There are some magnificent views along this road, and pullouts where you can stop to look.

4. You will eventually pass a green sign indicating Princeville 2.1 miles. You'll then pass the Princeville airport on your left, followed by the Princeville Golf Club on your right.

5. At the entrance to Princeville, where you will see signs to the 1 Hotel, turn right.

6. After passing the guard shack and the Neptune water feature you'll be taking the 2nd right onto Wyllie Road. Finally, on Wyllie Road take the first left to the Club Wyndham Ka Eo Kai Clubhouse.